Our story
The beginnings of Bernier Wells
Émile Bernier drilled his first well back in 1949 with a handmade percussion drilling rig.  He realized straight away that this was the ideal career for him and found his vocation in this essential area of work.  Having worked on a drilling rig for some time, he decided to start his own drilling company with his brother Émilien.
The company was named Bernier et Frères Enr. and mainly specialized in drilling artesian wells. Because of the huge growth in his clientele, he bought a new drilling rig in 1960 and increased his fleet to five rigs.
A profession passed on from father to son
Émile's son, Serge, joined the company in the early seventies filled with boundless enthusiasm.  Serge had learnt the rudiments of drilling from a young age.  He was eager to join Émile on site and found the experience fascinating.  After operating a percussion rig for several years and seeing the fast growth of the industry, Serge suggested that they should invest in a rotary drilling rig.
Thus in 1973 Bernier et Frères took possession of their first rotary rig that was capable of completing a project five times faster than a percussion rig.  Two years later, the company added a second rotary rig to its fleet.
In the eighties, with a growing market but a lack of quality products and installations, Serge founded the pumping company with Émile, the founder of Bernier et Frères.  As always, our pumps division offers services and products the high quality and reliability of which are unrivalled in the industry.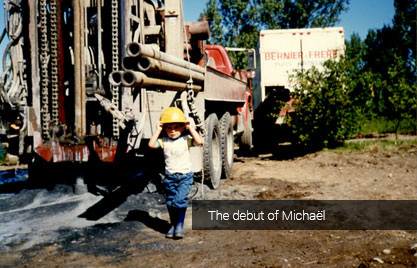 From the early nineties, Serge introduced his son, Michaël, to the art of drilling.  Michaël mastered the profession so quickly that those who know him say he was born behind a drilling rig.
Driven both by this young man's savoir-faire and by innovative ideas, the company expanded its activity into several new areas, including geothermal energy, foundation piles, hydraulic fracturing, plus many other activities related to drilling for the residential, commercial, and industrial sectors.
Constant growth
Following the death of Émile in spring 2000, Serge took charge of the family tradition.  He changed the name of his company to Bernier Wells Inc.
Now, Serge and Bernier Wells Inc. have built a highly qualified team and acquired equipment and machinery that are at the cutting edge of technology.  Managed by an outstanding logistics team, Puits Bernier Inc. has become a leader in the drilling industry in Quebec.
Serge and Michaël are true pioneers. They are ready to tackle the challenges of the future and will continue to take the art of drilling to its zenith.  Their promise to pass on the "pride that we feel for a job well done" to future generations is therefore assured.